Enjoy your new ProAdvisor Portal
Marketing campaign builder
To grow your practice, you've got to promote it. That's where My Marketing comes in. Create and send professional marketing materials to your contacts – all with one simple tool. Call our team on 1800 618 521 for support in building your next campaign!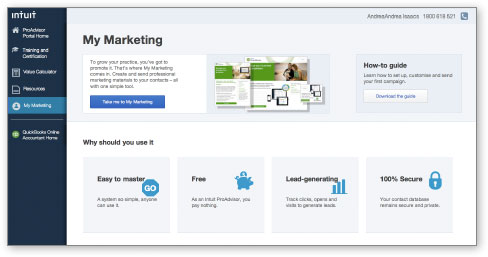 Client brochures & resources
Our resources section contains tools to help educate and onboard you, your practice and your clients. Finding it difficult to frame a cloud conversation? No problems, we've developed everything from client conversation guides right through to 'how to' videos and client testimonials. All available for you and free!
Automatic news updates
Staying abreast of the latest promotions, product and ecosystem changes has never been easier. The ProAdvisor portal has an automatic feed connected to our Twitter account. That means you can read the latest and greatest about QBO and stay connected to a community who regularly contribute to the account.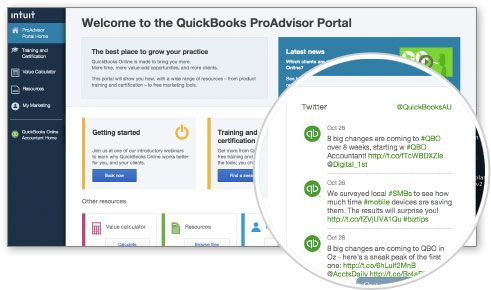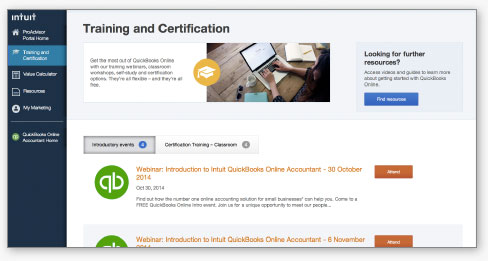 Training and Certification
Get the most out of QuickBooks Online with our training webinars, classroom workshops, self-study and certification options. They're all flexible – and they're all free.
Value Calculator
Use our portal value calculator to see how much time you can save and become familiar with value-based pricing. Call our team on 1800 618 521 for more information.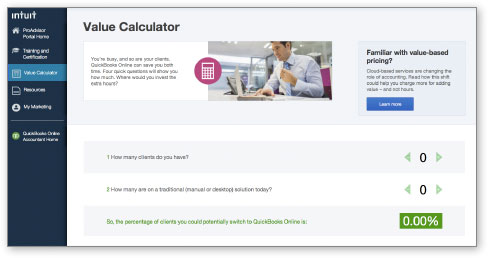 Week 1 – Highlights
Are you following our eight-week BIG Changes to QuickBooks Online Accountant? In week 1, we covered some product enhancements and brand new solutions designed to save you time, help you grow your practice and help you transform the way you communicate and deliver value to your clients.